Community Science for Sustainability
Future Earth Australia has partnered with the American Geophysical Union's (AGU) Thriving Earth Exchange to convene and support a series of community science projects for sustainability.  
Future Earth Australia and Thriving Earth Exchange are launching the first cohort of community science projects in 2020. We will be looking for communities and scientists which are interested in co-producing a community science research project to advance the sustainability priorities of that community.
Please scroll to the bottom of this page to find the current and upcoming opportunities in our community science initiative.
For more information, contact Eleanor Robson at eleanor.robson@science.org.au
____________________________________________________________________________________________________________________________________________________________________________________
Communities know their sustainability priorities best. Future Earth Australia and Thriving Earth Exchange will facilitate communities and scientists to co-produce actionable science which addresses a local or regional concern. Tapping our extensive network of research partners and pairing it with our project management capability, Future Earth Australia will deliver actionable science for communities' sustainability priorities. We will be facilitating community science projects by collaborating with Thriving Earth Exchange, whose model has been exceedingly successful since its launch in 2016.
What is Community Science? 
Community science is the process by which scientists and communities do science together to advance one or more community priorities. It encourages communities to guide, participate in, learn from, and benefit from science. Community science is also a means for researchers to learn how their specialised knowledge is required in application by communities, guiding research and knowledge-building priorities.
Community Science Approach in Four Phases
Before these four phases of the project, Future Earth Australia will launch a Call for Communities interested in co-producing a research project to advance a local-regional sustainability priority. Subsequently, a Call for Scientists will be launched to recruit pro-bono specialists to collaborate with communities, ultimately co-producing actionable community science. Find out about the upcoming and open calls below.
Once the community, scientist and/or team have been identified, Future Earth Australia and Thriving Earth Exchange use a 4-phase model to support each community science project through its 6 to 18-month lifetime.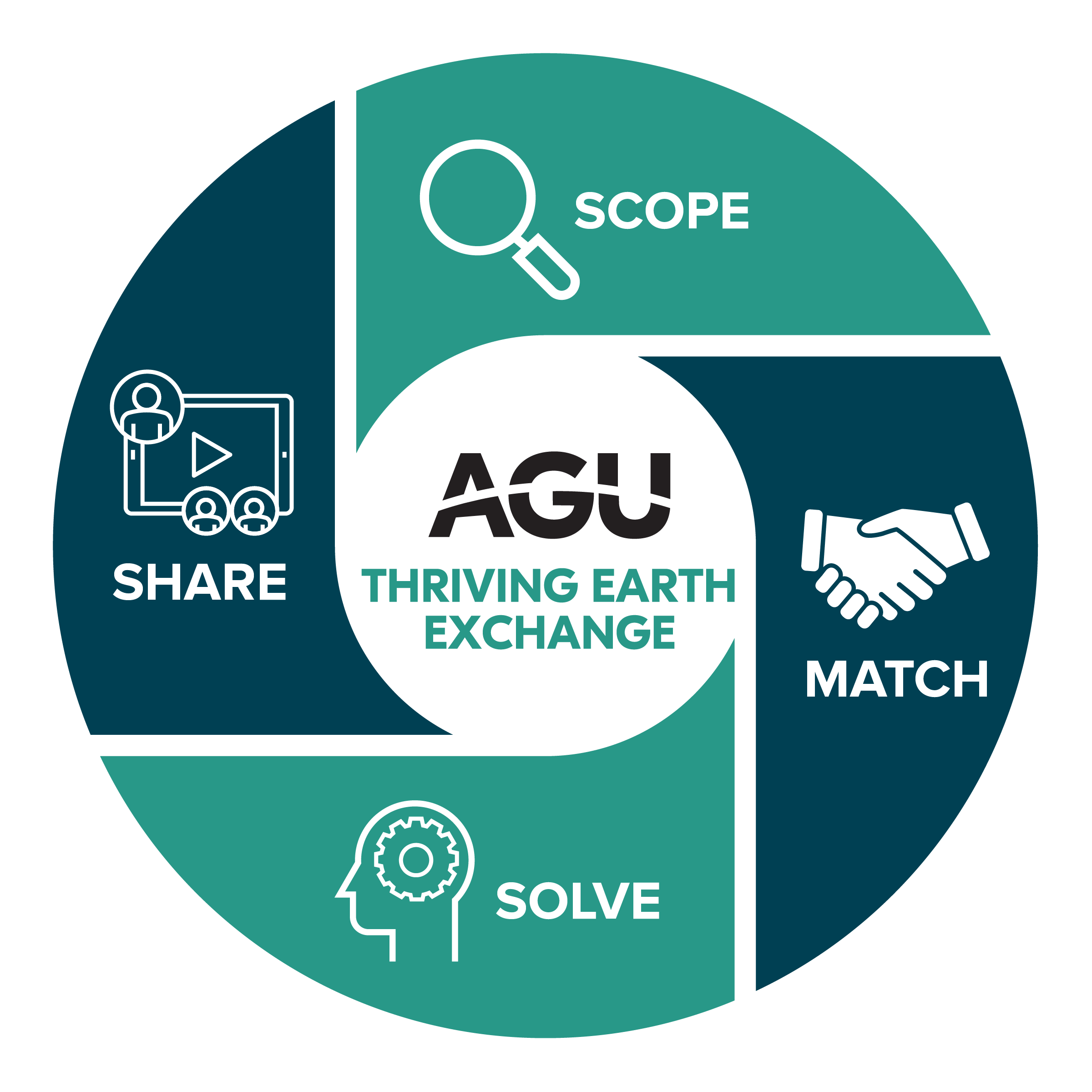 Scope: Projects are developed and defined based on community priorities. Through a series of conversations with a Thriving Earth Exchange project liaison, community leaders explore their values, priorities, strengts, and challenges, and their connections to Earth and space science. Scope is complete when the community has committed to pursuing a specific project. 
Match: We identify a scientist with the right skills and expertise to engage pro-bono with the community for the duration of the project. Match is complete once the scientist and community leaders have been introduced and agree to work together on a project. 
Solve: Community leaders and scientists work together collaboratively to achieve the project objectives. We provide project mentorship, facilitation and support, as well as connections to potential partners or needed resources. Solve is complete once the final project outputs have been completed and delivered to end users for a defined outcome.  
Share: Every community is unique, but many face similar challenges. Sharing the results of Thriving Earth Exchange projects enables other teams to adapt and build upon community science solutions. Share includes making sure that the project outputs translate beyond the community, recognizing the efforts of volunteers, and providing feedback on the Thriving Earth Exchange process.  
More on Our Partnership
Thriving Earth Exchange launched in 2013 and it has exceeded all its initial goals while simultaneously developing a successful and scalable community science approach. By 2019, the program had enabled over 100 projects in communities with a collective population of over 17 million people. 
Thriving Earth Exchange helps connect local communities with scientists to co-design and co-produce projects that advance local priorities related to natural resources, climate change, and natural hazards. Its mission is to strengthen and enhance collaboration among communities, scientists, and partner organisations so that all communities can build healthy, resilient, thriving, just, and ecologically responsible futures. 
Future Earth Australia is bringing this highly successful model to our region. By connecting with community leaders who need scientific expertise on their sustainability priorities, sourcing a team of pro-bono scientific experts to serve, and facilitating the co-design, development, and execution of the project, we will facilitate actionable science for the wellbeing of communities.  
____________________________________________________________________________________________________________________________________________________________________________________
Opportunities
The call for communities is now closed for our 2020 cohort. A call for scientists will open in mid-2020, after communities have been selected.
If are a scientist, researcher or part of a research institution and you would like to express your interest ahead of the call, please email Eleanor at eleanor.robson@science.org.au.
Call for Communities 
Future Earth Australia was accepting applications from community leaders in Australia to join the 2020 cohort.  
We are looking for community leaders who are already working to build more inclusive, resilient communities.
Communities selected for this cohort will work collaboratively with Future Earth Australia and selected scientists to design, develop and execute their project. Projects are undertaken free of charge to your community. 
This is a great opportunity to: 
Have a pro-bono community scientist address your community's top sustainability priority 

 

Have Future Earth Australia handle the planning and development of your community science project for you

 

Collaborate directly with community scientists to develop impactful tools and solutions that work for your community.

 
If selected to develop a community science partnership, 1-2 leaders from each community will be invited to develop, in collaboration with selected scientists, a community science project that addresses the community priority indicated in your application.   
Examples of the kinds of areas that a community science project could cover, include (but are not limited to): 
Consumption, waste and circular economy 

Ocean and coastal adaptation to environmental and climate change 

Community-empowered climate adaptation, particularly for disasters like bushfire and flood 

Diverse and resilient local food economies 

Improving water security and quality 

Defending biodiversity, protecting precious species and building biodiverse places 
The application process consists of three steps:
Expressions of interest were due 26 June 2020.