A National Strategy for Just Adaptation
Future Earth Australia is pleased to present its National Strategy for Just Adaptation. 
The Strategy seeks to disrupt current climate adaptation thinking and foster recognition, inclusion, and capacity building for all Peoples and nature. It has been compiled from over two years of collaboration and research, including over 35 authors from diverse backgrounds and 13 university, government and private partners.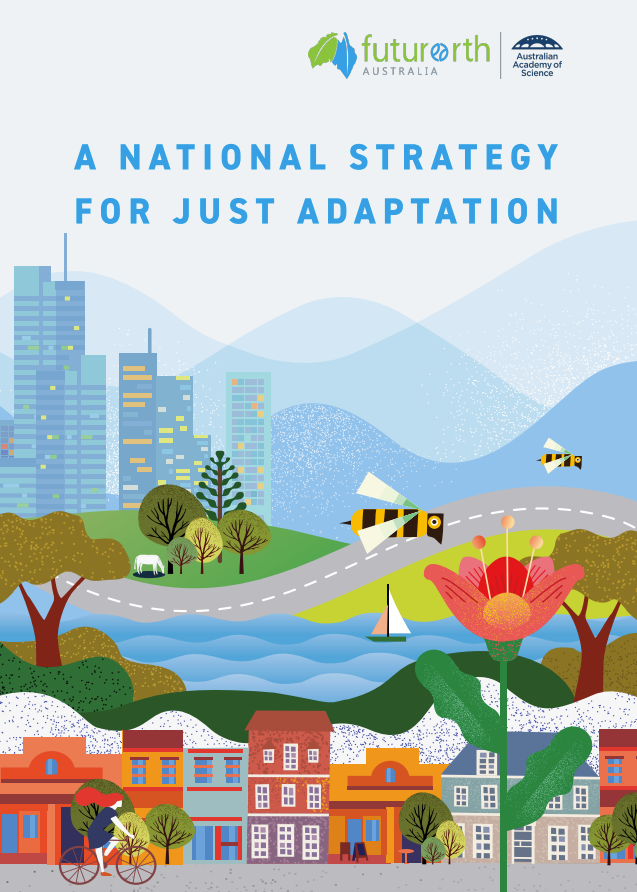 While a certain level of urgency is necessary to minimise harm from climate impacts, this Strategy emphasises the need for longer-term planning. It reimagines high-level concepts and societal constructs that need to change to decrease outcomes of inequity and marginalisation within Australia.
This National Strategy for Just Adaptation aims to broaden and rescope the way adaptation policy, planning, and action are framed. The Strategy purposely poses itself as a counter-narrative to previously developed strategies; moving from a focus on strictly technical elements to encompassing social, political, and behavioural strategies and systems change.
It then means using these to address multiple and intersecting injustices and enhance adaptive capacities of people, places, and ecosystems in all their diversities while learning from and integrating the ancestral and ongoing adaptive practices and knowledges of Indigenous Peoples.
The Strategy guides an intellectual reframing of climate adaptation to one that centres Country, and challenges the status quo and systems that perpetuate disadvantage. It can be utilised in myriad ways create and implement climate adaptation policies or projects as best fits each sector or organisation.
Read the full National Strategy for Just Adaptation here.
Read a summary of the Strategy here.